UNLIMITED STOREHOUSE RESOURCES
Waiting for you to size it up, take stock of, and stock it up!
All the following sizes are available in black or white. Don't forget to ask about customization for whatever you need.
YARDS OF SPACE
Fits neatly and cleanly into any environment… perfect for those extra projects you always need to get at. Simple, easy access never looked so good!
HANDYMAN SPECIAL
Run out of garage space? Add an extra bin for landscaping, garage or business extras. Take it with you on your truck or add company for your driveway.
YOUR PERFECT 10
Clean, simple and works for everything. Work or away, cars or play, everyday life needs some breathing room… like a giant cube van that doesn't need gas.
NOW WE'RE TALKING
Who says you can't have it all? Allows ample room for all your toys, construction materials or furniture storage. Get at it when you want it!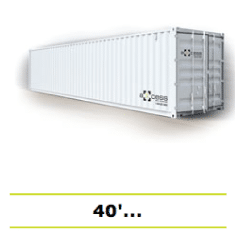 BIG BOY
Excess finally gets access! Accessorize to your heart's content. No more (obsolete) penny-pinching for every nickel-and-dime storage hack, own it all!
We'll Help You Make Space...
Insulate it, paint it, customize it, personalize it… add doors, benches, shelves and it's yours – a perfect fit.
See our Specifications page for any modifications you may want.