UNLIMITED STORAGE OPTIONS
The following sizes are available in black or white.
YARDS OF SPACE
Fits neatly and cleanly into any environment… Our compact 8′ Axcess Box Container is perfect for those extra items and projects you always need to get at. Take it with you on the back of your truck, or have it dropped off in your driveway.
HANDYMAN SPECIAL
Run out of garage space? Add a 9′ Axcess Container bin to your yard for all those landscaping, garage, or business extras. Simple, easy access never looked so good!
YOUR PERFECT 10
Work or play, sometimes everyday life needs a little breathing room. A sleek black or white 10′ Axess Box Container gives that extra space without taking up too much space.
NOW WE'RE TALKING
Who says you can't have it all? Our 20′ containers have ample room for all of your toys, construction materials, or furniture storage needs, while also allowing you to get at whenever you want it!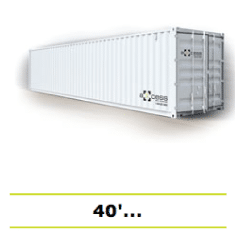 BIG BOY
Excess finally gets access! Whether it is an extra large Storage Box, Workshop, Inlaw suite, or a 'She Shed' you need, our 40′ Axcess Box Containers can be converted to suit your needs.  Customize and accessorize it to your heart's content.
We'll Help You Make Space...
Insulate it, paint it, customize it, personalize it… Add sliding doors, electricity,  plumbing, benches, shelves, and anything else that makes it a perfect fit for you.
See our Specifications page for any modifications you may want.